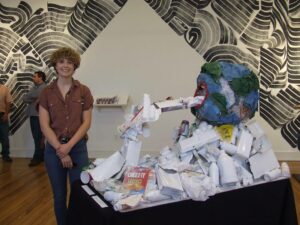 To promote recycling and celebrate "Earth Day" (April 22), the York County Solid Waste Authority sponsors an annual Recycled Art Contest for York County high school students. Students in grades 9-12 are invited to participate and may submit artwork individually or as a team.  
Participants must complete an application in order to submit an art piece. The title of the artwork, name(s) of the artist(s) and medium used must be submitted to Mindy Waltemyer at m.waltemyer@ycswa.com by the due date. All entries must be completed and delivered to the designated art venue in York County on the established date. The delivery time window will be announced to participants.
A contest reception with award announcements is held during the week of Earth Day. Contest awards are $600 in art supply gift certificates, split evenly between artist(s) and school, for first place, $400, split, for second place and $200, split, for third place. 
2021 Recycled Art Contest Details and Application
For 2021 event details, download the Recycled Art Contest Application and Guidelines 2021.
___________________________________________________________________________________
HIGHLIGHTS OF THE 2019 RECYCLED ART CONTEST (the 2020 contest was canceled due to Covid-19):
In 2019, participating schools included Central York High School, Dallastown Area High School, Hanover Public High School, Kennard-Dale High School, Red Land High School, Red Lion Area High School, South Western High School, and York Suburban High School. Twenty-eight students participated.
The first place winner was "Washed Up" by Mackenzie Burns, Brylee Rine and Becca Waller of Red Land High School. A second place award was given to Sophie Castro of Kennard-Dale High School for her submission entitled "Lost Home". The third place winner was "Cancer: Garbage of the Soul" by Emma Crumling and Lea Wilhelm of Central York
Prizes were awarded based on artistic technique, artistic expression and creative use of recycled materials. Judges were Rita Whitney, Director of Communications and Engagement at the York County Cultural Alliance; Victoria Kageni-Woodard, York area artist and fashion designer/owner of Gusa by Victoria, LLC; and Joaquin Calles Guzman, York area artist.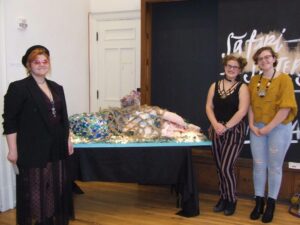 First place winner "Washed Up" by Mackenzie Burns, Brylee Rine and Becca Waller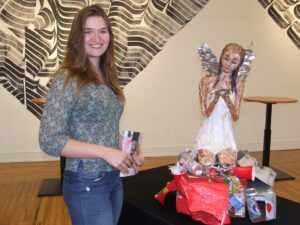 Second place winner was "Lost Home" by Sophie Castro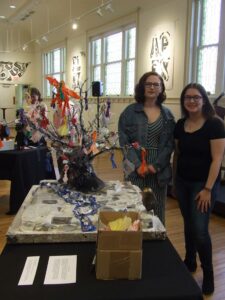 Third place winner was "Cancer:Garbage of the Soul" by Emma Crumling and Lea Wilhelm
The following photos were taken during "Picker Day" held in February 2019 at Refindings where artists sifted through items and selected free materials to use in their recycled art projects: