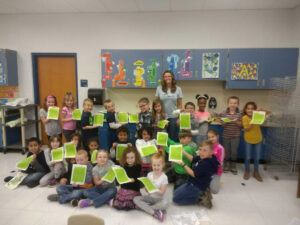 Ages: 6 and up
Duration: 45 minutes to 1 hour (adaptable to grade- appropriate length)
Description:
Students will learn how to properly recycle and why it is important to recycle. This discussion will lead into the topic of recycling paper, specifically. Students will be informed about the history of paper, the process of making paper, explore the important role paper plays in our modern lives, and consider all the products we use daily that would not be possible without paper. The presentation touches on the environmental factors and influences that make the practice of recycling paper key to preserving natural resources. Students will have the opportunity to make their own piece of recycled paper! All necessary materials are provided by the YCSWA.
Requirements: Access to a large sink and an electrical outlet
Evaluation Tool
Students will be able to describe the paper making process and identify the reasons why recycling paper is key to preserving natural resources.
Extensions
Have students brainstorm the many ways trees benefit the environment (food source for animals, shelter, shade, oxygen production, etc.).
Make recycled paper and write a letter requesting that local establishments start a recycling program or use recycled paper or other products.
Plant seedlings or a tree in a local park or on school grounds.
If paper couldn't be recycled, list a number of ways paper could be reused to preserve the paper we already have (scrap paper, bookmarks, coaster, etc.).
How to Get this Lesson Plan Into Your Classroom
This lesson is available at no cost to any York County school or civic group and is presented by a member of the Authority's Education Center staff. All materials and handouts associated with this lesson plan are provided by the Authority. Call 717-845-1066 or click here to schedule a presentation of this lesson plan for your class or assembly program.